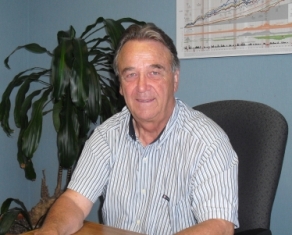 Diadem Resources Ltd
(TSX V: DRL)
Aime Bertrand, CEO


[display_podcast]
Corporate Profile:
Diadem is focused on acquiring near-production mining opportunities in North America, especially those related to diamonds and gold. Its principal current activity is diamond exploration in the Franklin Bay area of the Northwest Territories. On that project Diadem now has identified 28 potential drill targets on the Parry Peninsula, which currently constitutes the Franklin Bay project area. A ground magnetic survey has just been completed and the results are being analyzed. When the analysis is complete, Diadem will finalize its drilling program which will be carried out subject to permitting.
TRANSCRIPT:
WSR: Good day from Wall Street. This is Juan Costello, Senior Analyst with the Wall Street Reporter. Joining us today is Aime Bertrand, CEO and Chairman of Diadem Resources. The company trades on the TSX Venture and their ticker symbol is DRL. Diadem is focused on acquiring near-production mining opportunities in North America, primarily diamond and gold projects. Thanks for joining us today, Aime.
Aime Bertrand: You are very welcome. Thank you for having me.
WSR: Starting out, talk to us about your recent joint venture with Darnley Bay Resources.
Aime Bertrand: Actually, we've been involved with this project since 2003 and we have been working on this property on establishing the value of its content and what has happened is that we did a joint venture with Darnley Bay, which actually wasn't able to go on to production because the market would not allow us to raise in right time, money to go in and do the property. So we did small basic work analyzing the potential of the property and we come up with some interesting results, where we picked up some kimberlite pipes, numerous number of them, over 28 of them, which bear microdiamond, some of them. So, we counted up to 180 microdiamond. So we know we are in the right area. This year, we were able to put together a package to raise some money to do the stage of drilling, which needs to be done in order to confirm whether we have a diamond mine or not. The people at Darnley Bay are in the same area. They're working on a base metal project and we decided that we would join forces in terms of setting up camps so that we could keep our costs down and do a better job. So, basically this is where the idea of joining together and doing this jointly came up. It was primarily to do more with less money.
WSR: Well, great. And so you did announce that flow-through financing with MineralFields who raised about a million?
Aime Bertrand: That's right. That is scheduled to close on Friday, this week. We are scheduling to mobilize our crew after the closing. We should be able to be on the site in the first or second week of August with the drilling in place, so that we could start drilling in the first or second week of August.
WSR: Well great. Bring us up to speed on the Franklin Bay?
Aime Bertrand: The Franklin Bay area of course was originally drilled back in 2001. At that time, the company called De Beers was responsible for the drilling process and they came up with two anomalies, kimberlite site and they picked up one or two macrodiamonds on the site. But at that time, they again decided that they had a better opportunity somewhere else and they moved on from this area. So, basically that's when, couple of years later, in 2003, Diadem picked up that property and continued with this exploration program.
WSR: Certainly. Talk to us a little bit about some of the market trends in your sector and how well positioned you believe that the company is to capitalize on them?
Aime Bertrand: Actually recently, the newspaper here, Globe and Mail in Canada, put out an article where they suspect that the Lac de Gras area, the Ekati mine and the Diavik mine are going to run out of material sometime between 2015-2016. The gist of the interview was to say, "well, okay, where do we go from here?" There are not many companies really having great success finding other areas to drill for diamonds. Obviously this puts Diadem in a good position because we're not that far from those two diamond mines. We're actually maybe 300 or 400 kilometers North of them. Obviously, if we find a diamond mine, we're going to be in a very good position to — it won't be hard for us to have expertise, people to come in and develop our site. So, we're well located. We have we believe a great opportunity. We also have the situation where we have two of our geologists on board. One of them is Ed Schiller, who is responsible for the Ekati discovery, which is the biggest diamond mine exploration or company in operation today and Lee Barker, who was responsible for Diavik discovery. So, we have great talent on our Board, geologists-wise. We have another chap called Tom Skimming, who has also expertise in gold. So, between the three of them, there is more than 100 years of experience in terms of diamond exploration. So our Board is very, very talented and these people can actually guide us through the discovery, eventually of a diamond mine.
WSR: And perhaps Aime, you can also walk us through your background and experience as well.
Aime Bertrand: I started working back in 1958. So, I am a young, 68 years old. I was originally a banker for 15 years and I quit banking to get into the insurance business, I'm an insurance and investment advisor here in Montreal. I've been doing that for the last 40 years. I was involved at one time in real estate. I got into senior real estate complex here in Montreal, a new concept type living for elders that took care of elders from the time they retired and wanted to take it easy or if they had health problems. So, I had that background. I built up some 1,800 units, which I'm not no longer involved with. But this was some of the things that I did to keep my time busy. I was always very active in other areas. I've been President of Big Brothers and Big Sisters of Montreal, President of the Chamber of Commerce and I've been involved in many different functions, I've always kept myself busy. One of the things I like was to do more for my clients. I always look for my wealthy clients' opportunities that were out there and some of them like to look at the stock market, and I guess now I got involved in where I am today.
WSR: What would say, Aime, are some of the specific factors which makes Diadem Resources unique from some of the other players in the sector?
Aime Bertrand: Actually, Diadem is a very, very special situation. We have located on this Parry Peninsula, 28 targets that actually bear kimberlites. So, that's very unusual to have that many. Their formations are very, very compatible to the discovery of a diamond mine. Now, the thing is that, unfortunately for the past investors, but fortunately for the new investors is that now we have the funds to drill those anomalies. We're very hopeful that we will get some continuing positive results, which will lead us to eventual diamond discovery. All the anomalies that are there according to our geologists Ed Schiller, Lee Barker and Tom Skimming are very compatible to the eventual discovery of diamond mine. If you have the kimberlites and you have the microdiamonds that are there, and a couple of microdiamonds that have shown up in that area, we're obviously in an area where there are diamonds. So, let's start drilling and that's unfortunately what did not happen over the last couple years. We weren't drilling because we couldn't raise money to do it.
WSR: Right. And so what are some of the other goals and milestones here that the team is hoping to accomplish over the next year?
Aime Bertrand: Well, obviously this is the one that we want to concentrate on, I mean like about three years ago, we thought we'd get into the gold mining and we went in the property here in Quebec, and we spent some money on that project and we realized that — we left behind like I said for lack of fund. We didn't have the money to drill like diamond property, but we want to really concentrate on this diamond property. We believe that this is where it is going to happen for us. We're very excited about it, we're ready to go and we think that the results are going to be good and everything points out in our favor now. In the meantime, we have other opportunities that show up. We'll definitely look at them, but we really want to concentrate this summer on this project.
WSR: Well, good. So when it comes to investors and the financial community, Aime, what you wish had they better understood about Diadem? In other words, is there anything that you think investors are missing from your story, which if you fill that gap would result in a higher valuation of the stock?
Aime Bertrand: Right now, I think the people are missing most of the funds, I mean, that have been put into the company in the recent months. People from my personal clients, most of them very wealthy people, who invested and they're not in there for the short-term. They're not in there to get a nickel rise on the stock. They're in there to see, like me, the realization of a project that leads to eventual diamond discovery. So, we have serious investors in a penny stock, really. It shows because we have people who bought some stocks, could actually trade their stock now and triple their value. They're not trading it, they're just sitting on their stock certificate at home and telling me, "look, you tell us when it's time to sell." What I've been telling them is, "the time to sell is when we find a diamond mine, because this is what we got in for. We're not in there to get a nickel rise on the stock."
WSR: Certainly, and once again, joining us today is Aime Bertrand, CEO and Chairman of Diadem Resources Limited, which trades on the TSX venture, ticker symbol is DRL, currently trading at $0.14 a share. So, before we conclude, Aime, just to recap some of your key points, why do you believe investors should consider Diadem, DRL as a good long-term investment opportunity?
Aime Bertrand: I think because the upside is, sometimes it's about 10-30 times what its value is today on a medium-term. We are going to be drilling that property for at least the next three years in any event, because we have like 28 targets that are established. We also have additional grounds, which would double the size of our property that we have access to and where we have already found three or four anomalies there and we haven't really — we've just scratched the surface. So, looking at that, I would say that that play is going to be on for the next three years in any event. Now, if we happen to hit quicker than later, well then that's bonus. We're certainly very excited about the drilling prospects that we're going to be doing in the August session, because those anomalies resemble greatly the ones that were led to the discovery of the Diavik mine in the Lac de Gras area and the Ekati discovery as well. We happened to have those two geologists on board that are looking at these anomalies and they're telling me basically it's a replica. So, Aime get the money and let's start drilling, and that's what I did.
WSR: Well, we certainly look forward to continuing to track the company's growth as well as report on your upcoming progress, and I like to thank you for taking the time to join us today Aime and to update our investors on Diadem.
Aime Bertrand: Thank you for having me.