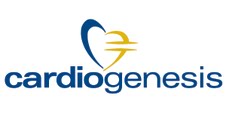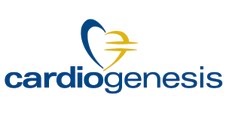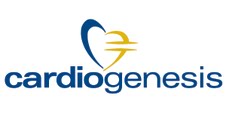 Cardiogenesis Corporation
(OTC QB: CGCP)
Paul J. McCormick, Executive Chairman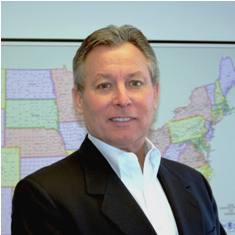 [display_podcast]
Corporate Profile:
Cardiogenesis designs, develops, and distributes innovative devices for the treatment of chronic cardiac ischemia. The company's market leading transmyocardial revascularization (TMR) technology platform utilizes a holmium:YAG laser energy source delivered through a range of minimally invasive fiberoptic delivery systems.
Published long term results demonstrate the efficacy of the TMR treatment in patients suffering from severe refractory angina, when stenting or bypass surgery is no longer an option. The company is building on the TMR platform in combining laser treatment with the delivery of autologous cell therapy in a single delivery system. This PHOENIX combination delivery system is CE Mark approved and has been submitted under an IDE application to the FDA.
Cardiogenesis sells its products primarily to hospitals in the United States through a direct sales and support organization, as well as through distributors and agents in North America and Europe. Founded in 1989, Cardiogenesis is headquartered in Irvine, California.
TRANSCRIPT:
WSR: Good day from Wall Street this is Juan Costello, Senior analyst with the Wall Street Reporter, and joining us today is Paul McCormick, the Executive Chairman of Cardiogenesis Corporation. The company trades on the OTC QB, and their ticker symbol is CGCP. They are a medical device company specializing in the treatment of cardiovascular disease. Thanks for joining us today Paul.
Paul McCormick: Thank you, Juan.
WSR: Starting off, why don't you bring us up to speed on some of your company's technology and start off with a little bit of an overview about Cardiogenesis?
Paul McCormick: Cardiogenesis is marketing and developing regenerative therapies for the treatment of chronic cardiac ischemia. As you know, coronary artery disease remains a leading cause of death for persons over the age of 65, and while medical management, percutaneous intervention such as stents, and coronary bypass surgery are the conventional therapies, coronary artery disease is a progressive and with an aging population that's living longer, a significant number of these patients will outlive the effectiveness of conventional therapies. There is an estimated 200,000 patients diagnosed each year with refractory angina, but are not candidates for conventional treatments and need an alternative. Our commercial product is laser transmyocardial revascularization, which is commonly referred to as TMR. The technology is used to place channels into the heart muscles that cannot be perfused by conventional means. In a randomized control study with five year follow-up, the technology has been proven to not only reduce or eliminate the pain of angina, but improves survival for these patients with no conventional options, and studies have demonstrated that patients treated by TMR can exercise more. As we all know, improved exercise tolerance is a predictor of survival in older patients with cardiac disease. The technology can be employed as minimally invasive stand-alone therapy or used in conjunction with coronary artery bypass surgery to treat areas of the heart muscle not amenable to placing a graft. Most experts believe that the laser channeling reduces angina by a combination of denervation in the early phase, but that the long-term benefit is the result of angiogenesis. The tissue stimulation by the laser works as a bio-mechanical trigger to signal the body to produce stem cells and growth factors to the treatment site and harness the combination of biologics that is naturally produced by the body as part of its regenerative process. Our next generation of products will combine this tissue stimulation of TMR along with the injection of stem cells derived from bone marrow to further enhance its efficacy. So, that gives you a little bit of an overview of the company and our core technology.
WSR: Talk to us about some of the challenges right now as a company and in your sector, and what are some of your specific strategies for overcoming them?
Paul McCormick: I think there are three significant challenges. First for our current commercial business, our challenge has been to convert our organization from a capital equipment sales force to one more suited to build utilization and selling our consumable products. Over the past 12 months, I've been particularly pleased with the efforts of our sales and marketing team in making that transition. In Q1 of 2010, for the first time in many years, the company posted increased revenue and units from the sales of consumables over the prior period. Also for the first half of 2010, consumable sales are up 17% from the first half of 2009. Our second challenge is clinical and regulatory, and that's to initiate our pivotal trial for the PHOENIX system combining TMR with the injection of stem cells derived from bone marrow. We believe the synergy of tissue stimulation with the injection of stem cells provides a significant growth opportunity for the company in the future. We've made significant progress, and plan to begin a feasibility trial OUS in Q4 of this year, and are projecting to initiate a FDA pivotal trial sometime mid-year 2011 for this new technology. Finally, we need to be good stewards of our financial resources and that can be a delicate balance of what we would like to do and what we can afford to do. Having approximately $2.2 million in cash, no debt and a low burn rate helps. Product gross margins of 84% also provide a great financial benefit with increasing sales. So, we will continue to effectively manage our resources in order to be able to control our destiny, and those are the three significant challenges that we're managing today.
WSR: Talk to us about some of the company's recent news, including the STAR-heart study.
Paul McCormick: On September 1st we commented on the results of the STAR-heart study, which was presented at the European Society of Cardiology Congress this past week. The study demonstrated that the intracoronary injection of autologous stem cells derived from bone marrow is associated with improved hemodynamics and long-term survival in the treatment of chronic heart failure. The positive results of the STAR-heart study reinforces our clinical plan to study the injection of autologous bone marrow cells in combination with our TMR system. The company has developed its PHOENIX Combination Catheter System, which is the first device specifically designed to combine tissue stimulation and physician-directed injection of a biologic or pharmacologic agent. The PHOENIX includes a fiberoptic component and a three-needle array positioned around the fiberoptic, which allows precise delivery of cells into the stimulated tissue. Although our clinical study with the PHOENIX will target a slightly different patient population, the STAR-heart study demonstrated the clinical benefit from the use of autologous bone marrow cells in patients with heart disease. Also relevant to our planned study was the commentary by the STAR-heart study investigators that pre-conditioning of the target myocardium was a key factor in their success. Pre-conditioning was accomplished by an ischemia-producing stimulus caused by balloon dilatation during the stem cell infusion. This seems to be important for creating an environment for the stem cells to home into the cardiac tissue and improve cell retention. In our study, the PHOENIX will create an environment to maximize cell retention by treating the target heart tissue first with TMR, immediately followed by the injection of autologous cells derived from bone marrow. Animal studies demonstrated early cell survival in infarcted tissue when TMR was used as a pre-treatment or a pre-conditioning to stem cell injection. We are optimistic that the combination of TMR plus bone marrow cells will have a synergistic effect in reducing angina in humans. As I mentioned earlier, we plan to begin enrollment in a feasibility trial for the PHOENIX system OUS with the results of that study to be used to support our FDA submission to begin a pivotal trial in the US. So, this was very exciting news that seems to validate our clinical approach.
WSR: I appreciate the update on the recent news. So, once again joining us today is Paul McCormick, the Executive Chairman for Cardiogenesis Corporation. The company trades on the OTC QB, ticker symbol is CGCP, currently trading at $0.27 a share. We are just discussing some of the company's technology platforms, overview of the company, some of the challenges and their specific strategies for overcoming them, and some of the company's recent news. Before we conclude, why do you believe that investors should consider Cardiogenesis (CGCP) today?
Paul McCormick: Cardiogenesis is already a commercial-stage company with a novel approach to the treatment of chronic cardiac disease utilizing regenerative medicine. More than 85% of our trailing 12 months revenue of 11 million is derived by the sales of consumables and service. Consumable sales have increased 17% in the first half of 2010 over the prior year, showing a promise of that razor-razor blade system. The company enjoys gross product margin of 84%, has no debt, 2.2 million in cash, and is currently cash flow breakeven at about three million in revenue per quarter. Our PHOENIX Combination System utilizing TMR plus stem cells has been successfully used overseas, and the company expects to begin its feasibility trial OUS followed by the initiation of a US FDA pivotal trial mid-year 2011. Cardiogenesis is a fully reporting company with the SEC, and its stock is traded, as you mentioned, on the OTC QB. We currently trade an enterprise value to revenue multiple of less than one, what we would argue as significantly below valuations for commercial-stage companies developing regenerative medical therapies. We also believe that as we execute our strategic plan, we'll have the opportunity to list on the National Exchange, which should provide improved visibility and liquidity for our shareholders. As we introduce Cardiogenesis to a wider audience of investors, we believe there is an opportunity for significant improvement in valuation. And so if anyone has any additional questions or would like to learn more about the company, let me direct them to our website, which is www.cardiogenesis.com or I can be reached at pmccormick@cardiogenesis.com or at telephone 949-420-1808.
WSR: We certainly look forward to continuing to track your company's growth as well as report on your upcoming progress, and I'd like to thank you for taking the time to join us today, and to update our investors on Cardiogenesis.
Paul McCormick: Thanks Juan. I appreciate it.