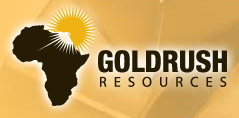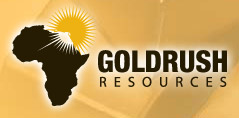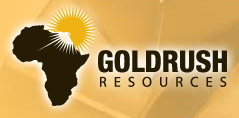 Goldrush Resources
(TSXV:GOD)
Ceo: Len Brownlie
[display_podcast]
Interview Transcripts:
Juan Costello: Good day from Wall Street. This is Juan Costello, senior analyst with The Wallstreet Reporter and joining us today is Len Brownlie, CEO and President for Goldrush Resources. The company trades on the TSX Venture and their ticker symbol is GOD. Thanks for joining us today Len.
Len Brownlie: Thanks for having me Juan.
Juan Costello: Great. Now starting off, give us a brief history and overview of Goldrush for some of our listeners here who are new to the story.
Len Brownlie: Goldrush is a junior exploration company that's been active in Burkina Faso, West Africa for the last five years approximately. We have a gold resource there on our main flagship project called Ronguen. The resource was compiled in early 2008. I should mention that the resource is 249,000 ounces which was 5.9 million tons with a grade of 1.31 grams per ton. All in oxide, all near surface.
Subsequent to that, the world financial crisis came along and we went into a hibernation mode for about a year. And then beginning of 2010, we raised a million dollars. In October 10, we raised another four million dollars of exploration of funding. And the main placees and the placements were the likes of Sprott Asset Management, CMP Gold Trust and Pinetree Capital.
We've spent about a million and a half so far this year on further exploration at Ronguen. We've had some very, very good drill results. It was a two-phase program. The first phase with 12 coreholes which effectively doubled the depth to which mineralization was encountered from 80 meters to 160 meters.
Subsequently we did an RC or reverse circulation drill program of 37 holes and we've had some very, very good drill results from that program including 7.63 grams per ton over 15 meters and 3.17 grams per ton over 22 meters and another 3.1 grams over 34 meters in holes that were adjacent to one another.
Modeling this, it looks like we have an area of supergene enrichment which, getting somewhat technical, means but the gold mineralization is being concentrated by weathering or other geological events. It's just very near surface material. It's well over 3 gram materials so it's a juicy place to start mining if and when we get to the point of starting a commercial, open pit mine.
The other news that I think is quite relevant is that yesterday we announced that we had encountered 6.72 grams gold over 8 meters in a step out hole to the west. Previously we thought the gold mineralization was cut off but that was through a series of very shallow holes. This we found, the mineralization we found yesterday was in a deeper, a slightly deeper area of about 40 meters in depth. And what it indicates is that we have, when you pile that on to the geochemical and geophysical data we have, we now have an open strike length of about 12 kilometers with the potential for additional mineralization.
So we have a number of really good looking targets to the west. And we also have some very good looking targets to the east, up to seven kilometers away from the known mineralization. And the deposit right now is about 1,500 meters long so if you add it all together, there's perhaps 20 kilometers of strike length potentially there. This needs to be validated through additional drilling.
We've signed a contract to begin a 5,000 meter RC program and that will begin late December or early January of 2011, just depending on rig availability. So as soon as we get a rig in, we're going to start drilling and it will be two shifts a day so we'll get the data back very quickly.
So, a bit long-winded but that in a nutshell is what we're trying to accomplish in Burkina Faso. I guess the other point is Burkina Faso is probably the hottest address in the world right now for gold exploration. There have been six commercial gold mines opened in the country in the last three years. And there's probably another three to four over one million ounce deposits that have been found and are being developed at this point in time.
So lots of upside potential in the country, lots of exploration going on, so an excellent address to be looking for gold. And we feel fortunate to have one deposit. We have another three permits and are looking to add to that property inventory. And we will be conducting exploration on the permits we have as well as the ones we intend to get here soon in 2011.
We're well financed at this point to conduct our exploration programs and we think we have a lot of upside. So there's our story. [laughs]
Juan Costello: Well great. I guess I don't have many questions left to ask now. So what would you say makes the company unique from some of the other players in the sector?
Len Brownlie: A number of the players are recent companies that have come in from Australia and so they haven't necessarily picked the best ground position but they are aggressive companies. We feel that our history there, our on-the-ground team which consists of people who have been there from 15 to 20 years and have an excellent network of contacts: they know how to get the drills; they know to get a hold of the people who own permits now, the locals that own them.
We think we have a very good team on the ground, very experienced. We have a 40-person remote camp that allows us to do exploration in more remote regions. So we're really well-positioned and just having that five years of experience in the country is really a leg up on a lot of the other companies. And I think the experience of the team is really key and that two of it's members were instrumental in finding both the Taparko mine or what was the Taparko deposit and which became a mine, and also the Bissa deposit which is now gone through a feasibility study and will be moving towards production in the future. So these guys have had good success in terms of turning exploration success into development and production scenarios. So yeah, that gives us somewhat of a leg up on many companies.
Where we've fallen down is in being inactive, more or less inactive for about a year as we refinanced, a number of our competitors were able to refinance more quickly and have seen their stock prices move up between 300 and 1,600 percent. In our case, we've moved from about a nickel to about 23 cents today. So still a lot of upside potential in our story.
Juan Costello: Well certainly. Perhaps you can walk us through your background experience Len and talk a little bit about the strength of the management team there.
Len Brownlie: Sure. Myself, I have Ph.D in sport sciences but I have been involved in the management of exploration companies for almost 30 years. Driff Cameron who is one of our directors was the former VP-Exploration for High River Gold. And he's one of the fellows that I'm talking about in terms of having good experience and good success in finding economic ore bodies in Burkina Faso. So he's been involved with both Taparko and Bissa which are High River projects.
Bob Young has almost 40 years of experience as a geologist and he is recently retired. When he retired from TECK Corporation, he was the VP-Special Projects and South American Exploration. The team is rounded out with Kim Phillips and Allan Williams who are Vancouver residents and have been involved in junior exploration companies in the management organization and financing of them for almost as long as myself, so around 30 years. And then our VP-Corporate Development, Don Willoughby has been involved in public and private companies for well over 35 years and is an excellent ambassador for the Company and conducts most of the road shows that we have.
Juan Costello: Well great and so what are some of the goals and milestones that the team is hoping to accomplish over the course of the next year?
Len Brownlie: Our first goal will be to continue to do drilling at Ronguen. At some point, I mean up to now we've been saying we're going to do a revised resource estimate but we keep finding intriguing mineralization and expanding the size of the deposits.
So our first goal is to run this 5,000 meter drill program in December-January and based on its results, then determined whether to take a bit of a break there and do a resource estimate or whether to keep drilling. So sometime during 2011, we intend to upgrade the resource estimate.
The original resource estimate was done with a cost of gold of 685 dollars per ounce and a cut-off of .5 grams per ton. Both of those parameters are now seriously out of the ballpark and need to be revised upward. So without having done any work, we would probably see an increase in resource size but given the work that we've done and the results we anticipate, we're pretty sure we're going to have a much larger deposit to talk about once we do get the resource estimate done. So, sort of first priority is get the resource estimate but that will be somewhere into the second quarter before we have all the data lined up.
Secondly, we are exploring other permits and just starting exploration on two of them and so depending on how the results come in there, we intend to devote some of our capital to further exploration there.
And thirdly we have other targets on the permits that hold the Ronguen deposit that we need to follow-up on. We just finished a 4,000 meter RAB or Rotary Air Blast drill program. We're waiting for results on that and those results will help us target locations for RC drilling in the future.
Juan Costello: And when it comes to investors and the financial community Len, do you believe that the Goldrush Resources story, your message, and ultimately the Company's upside potential are completely understood and appreciated by the financial community?
Len Brownlie: Well I think over the last couple of years, the financial community has become much more tuned into gold in general. However, I don't think they've picked up on the junior exploration stories as much as possible. I think we've been guilty certainly up until the beginning of 2010 of not broadcasting our story very well.
We've now attempted through various channels to let the world know that we exist and that we have a very interesting story. And so I'm hopeful that in the future, more people will recognize the Goldrush name and identify us with some very intriguing and prospective gold exploration opportunities in West Africa.
Juan Costello: Certainly and so once again joining us today is Len Brownlie, CEO and President for Goldrush Resources. The company trades on the TSX Venture, ticker symbol is GOD. It's trading at 23 cents Canadian a share. The market cap is 16.8 million.
And so before we conclude Len, to recap some of your key points here, why do you believe investors should consider Goldrush Resources as a good long-term investment opportunity?
Len Brownlie: There's a number of rationales to investing in Goldrush. One is that we're in the right commodity which is gold. We're in the right location which is Burkina Faso, West Africa. We have an undervalued stock price and small market cap. We have a known deposit at this point which we intend to do a resource estimate update on and will indicate a much larger resource, we're quite sure.
We have a number of drill programs under way. And we have some ambitious expansion plans in West Africa. And as well, we are attempting to reach out to the market and have a marketing program underway in order to make sure that the world knows that we exist. So for all those reasons, I think we're an excellent investment at this time.
Juan Costello: Well we certainly look forward to continuing to track your company's growth as well as report on your upcoming progress. I like to thank you for taking the time to join us today Len and update our investors on Goldrush.
Len Brownlie: Thanks very much Juan. Much appreciate the opportunity.
Juan Costello: Certainly. It was good to have you on.