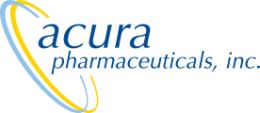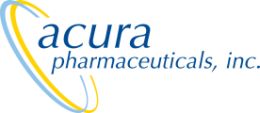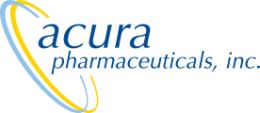 Acura Pharmaceuticals, Inc
(NASDAQ:ACUR)
CEO and Pres: Bob Jones
[display_podcast]
Interview Transcripts:
Juan Costello: Good day from Wall Street this is Juan Costello senior analyst with the Wall Street Reporter and joining us today is Bob Jones the CEO and president of Acura Pharmaceuticals. The company trades are NASDAQ and their ticker symbol is ACUR. Thanks for joining us today Bob.
Bob Jones: Thanks for having me Juan.
Juan Costello: Great now anything and starting off give us a brief history and overview of Acura for some of our listener that are new to you story.
Bob Jones: Yeah Acura has been focused for 10 years exclusively on developing medicines that resist abuse so we have a number of medicines out there opioids, pseudoephedrine that are habitually abused it's a huge problem it's costing us a lot of money and we're developing formulation that resist the abuse.
Juan Costello: So yeah in terms of Nexafed can you talk little bit more about the drug and the recent trail there?
Bob Jones: Yeah Nexafed is our pseudoephedrine product, pseudoephedrine's come under a lot of legislative and law enforcement scrutiny of late because it is a big problem of people converting pseudoephedrine's products that they take of the shelf in the drug store and making the illegal drug amphetamine out of it it's a very costly problem particularly from the stand point that each of the labs are toxic lay sites and require about $20 to $25000 worth of clean up and so we've we have build technology and key technology that they incorporate into pseudoephedrine containing products that's a billion dollar market for the cough cold products and the intent there is that we limit the extraction of the pseudoephedrine from the tablets and disrupt the conversion of the product into methamphetamine so they trial we ran was really a marketing focused oriented trial because we found that the pharmacist who are key audience for this product are really require a demonstration of efficacy given the fact that we are adding our technologies into the products to, to inhibit extraction of the elective ingredient. They want to make sure that the product is efficacious for the patients when they recommend the product and that's what this test show, this is a clinical study that demonstrated that our product is just as efficacious using FDA guidelines as the products that are currently available in the market.
Juan Costello: Right and so I just rounded up some of the other products in the pipeline can you talk about the FDA approval on Oxecta?
Bob Jones: Yeah the product is Oxecta it's partnered with Pfizer and it's our second technology actually it was the first product which came to market with technologies that we had developed that's our old version technology which is directed towards prescription opioid abuse so these are drugs like oxycodone and hydrocodone and Vicodin is the brand name it's a huge, huge again problem and it's also a huge market the largest prescribed drug marketed in the country, is prescription opioids so similar concept here we use a technology that we built in to the tablets that address some of the common forms or ways of abusing opioids and that product was approved by the FDA back in June of 2011 and they said it's on the market and being sold by Pfizer.
Juan Costello: Great and so what where the driversmbehind the company's recent quarterly results?
Bob Jones: Yeah our results we are still very much a development stage company at this stage so you know our revenues are really pending and we're really expecting those to manifest here as Pfizer sells and focuses on our Oxceta to generate some royalties, but more specifically Nexafed product which are, we are launching ourselves in December we'll start generating some top line sales, so our historical results have been more focused on managing our cash in order to support the development of our products, but going forward it's going to be about revenue generating for us.
Juan Costello: Certainly and what are some of the factors that makes the company unique from some of the other players in this sector and able to capitalize on some of the trends in the sector and grab market share?
Bob Jones: Well the, the sector that we are participating in and is really a newly emerging sector and abused the term pharmaceuticals so we are very much at the fore front of this sector and I think it's just starting to manifest and get some attraction and maybe we attracted this and this is, these are very sizable very lucrative markets and so the challenge is we face like any company that's coming out with brand new innovations that are really getting the word out and educated the health care providers and to the options that are now available to them and getting them on board to them to prescribe recommend or otherwise utilize our products.
Juan Costello: Well good and perhaps you can walk us through your background and experience and talk a little bit about the management team there.
Bob Jones: Yeah we, me specifically I used to have a lot of experience 25 years in the industry I've worked in branded pharmaceuticals, generic pharmaceuticals and over the counter pharmaceuticals as well as some pharmacy services business. So, I got a broad background of different sectors of the industry my work experience I've been CFL of a company and I've been the head of marketing and sales of another company so I've come really up through two different tracks kind of a unique experiences and had the wonderful opportunity here to head a company as small, smaller company, but utilize all the experiences I've garnered through my career. Management team very deep in the industry many of us have over 20 years in the pharmaceutical industry we have successfully gotten multiple IMBs act through the FDA and we've gotten NDAs, we have submitted to the FDA and approved so you know we have the talent and the capabilities to certainly executive a business plan.
Juan Costello: Great and what are some of the goals and milestones that you and the team are hoping to accomplish over the next year.
Bob Jones: Our very near term is obviously the launch of the Nexafed that is the, going to be the primary revenue driver the company will control going forward and the other thing we have is the development of more of our aversion opioid products so those over the next course, course of the next 12 months is really to get the second opioid product developed and well on the way towards new drug applications submission to the FDA and selling out Nexafed product.
Juan Costello: And as far as investors and the financial committee are concerned Bob do you believe that the company story and your message and the upside are completely understood and appreciated by them and if not what you wish investors better understood about Acura?
Bob Jones: No I think that the abuse turned story like I said it's new it's novel it's like anything where you're leading the pack you're blazing new trails and something those trails lead to dead ends and you have to renegotiate them and that certainly been the case with Acura we have gone down some pathways that the FDA hasn't necessarily appreciated, but you know over time I think that these technologies these innovations are going to become very well appreciated in the market place and that will translate to some success force.
Juan Costello: Well great and so once again joining us today is Bob Jones the CEO and president of Acura Pharmaceuticals. The company trades are NASDAQ and their ticker symbol is ACUR currently trading at 1.17 a share and before we conclude here Bob to briefly recap some of your key points why do you believe investors should consider the company as a good investment opportunity today.
Bob Jones: This is a new novel technology that are addressing huge problems in extremely large markets we think that has the ability to translate into some significant potential for us.
Juan Costello: Well we certainly look forward to continuing to track your companies growth and report on your upcoming progress and we like to thank you for taking the time to join us today Bob and update our investor audience on Acura.
Bob Jones: Thank you Juan.