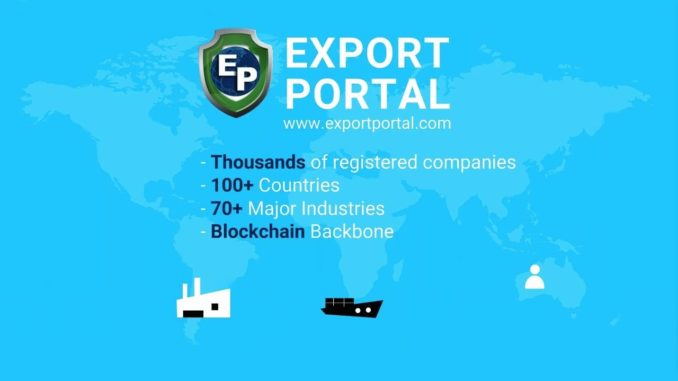 Big Tech Players are Not the only Blockchain Trade Solutions Providers
Export Portal, a blockchain enabled private entity, is looking to further expand its international operations through investors and partners. After expanding to 150 countries in 2017/18, the founder's plans have reached a level that requires like-minded individuals, those who share our vision of assisting companies around the world. IBM and MAERSK may be developing their TradeLens blockchain solution to help facilitate trade, but big tech solutions like these are merely a vitamin pill for businesses that long forgot how painful it is to open new markets.
We here at Export Portal have been quietly expanding our operations in the past two years, working closely with multiple growing businesses trying to expand their reach, becoming the figurative pain pill SMEs need.
Two decades ago, IBM shifted to high dollar big business contracts and solutions to appease their own shareholders. MAERSK is one of five or six of the last shipping container heavyweights in an industry that continues to consolidate power. However, big name companies working together often lose sight of the bigger picture, leaving other eager businesses of various sizes to fend for themselves.
Export Portal, on the other hand, is a two-year-old bottom-up solution that has been specifically created for global entities looking to expand into new markets but don't have the first idea how. We're not just improving supply chains, we're building a proprietary blockchain network that will support local and international levels alike. On top of that, we won't stop at bringing buyers and sellers together. The Export Portal team will offer support and service to our verified partners every step of the way, from verifying payments to authenticating all shipments and custom clearances in a shared ledger available to all involved parties.
In addition, we provide an e-commerce ecosystem carefully designed to tell international company's stories to better promote their products.
SMEs are vital parts of local economies, they encourage development in low income communities and help alleviate poverty and unemployment. By strengthening private sectors and pursuing unique business models, they also keep large corporations on their toes and prevent industries from stagnating. These effects ripple throughout markets around the world, as data shows that SMEs account for roughly 37 percent of global employment. That may not sound like much at first glance, but when you remember how many people we share this world of ours with, that comes out to around 325 million people around the world employed by SMEs, with over 148 million of them in emerging markets.
These are staggering figures, especially when you factor in the growth rate that's gotten us here.
From the year 2000 to 2014, the global average growth rate of SMEs was five percent annually, though areas like Europe and Central Asia achieved close to nine percent. Amid the various market crashes and economic upheavals that brought major companies who worryingly claimed they were "too big to fail" down to their knees, the little guys continued to rise up all the same. Now that blockchain facilitated trade is on the verge of accelerating trade exponentially in this Fourth Industrial Revolution, SMEs will have the means to perform like never before, and we want to lead the way.
Export Portal was created to be a solution that is free to join, easy to understand, and meant to take the fear out of trading internationally. We gather the start-ups and small enterprises that can't play in the big leagues and provide them a place to flourish, becoming a hub of global business. By providing sellers the necessary space for their products to reach a wider audience, we help buyers find products faster and more efficiently, allowing us all to grow together and compete with the business rivals we couldn't stand up to alone.
In the years to come, Export Portal will continue to push the limits of trade. With our online showroom, 100% Escrow Payment Guarantee (1EPG) and communications and customers rooted in blockchain security, we will open new horizons for any sized SME from 150+ countries across the world. Export Portal CEO Ms. Spinu and her team are looking forward to the next level of growth, and seek a like-minded investor to further explore this B2B space.
SMEs need a champion for their progress towards the Fourth Industrial Revolution, and we need a globally minded investor. We're looking for visionaries who want to revolutionize outdated trade methodologies, with the talent necessary to broker the terabytes of information to make that happen. As a recognized woman in technology and payment processing, with several success story credits to her name, Ms. Spinu is opening her calendar to sit down to talk about potential next steps. Export Portal has a big vision to assist Global SMEs, and we are ready for our turn in the spotlight. For more information, please reach out to us to learn more or schedule a meeting.
Investor Relations Contact:
John Zahaitis
Export Portal
http://ec-b2b.com/
+1 (818)965-9399
About Export Portal & ExportPortal.com:
Export Portal's blockchain enabled ecosystem is a one-stop platform to find products, communicate, negotiate, pay, track, and provide the help that expanding companies need to better their lives, no matter where in the world they are.
The next chapter of Export Portal is waiting to be written. Globally verified SMEs and manufacturers are looking for an American Technology they can believe in and are tired of illegal trade and black holes of customer support or copycat IP fraud. Entire governments would benefit from blockchain enabled trade, and our Business Development Team has 140 consulates in our own backyard we will be speaking with next.
Help Export Portal help SMEs help themselves.
To learn more about our platform, go to:  https://www.exportportal.com/learn_more
To talk to us about our vision and invest in a better way to trade, go to:  http://ec-b2b.com/
To see our 2 minute Hollywood pitch about the problem ExportPortal.com is solving, go to:  https://www.youtube.com/watch?v=wUi0jB_MslA
Investor Relations Contact:
John Zahaitis
Export Portal
http://ec-b2b.com/
+1 (818)965-9399
Media Contact:
John Zahaitis
Export Portal
+1 (818)965-9399