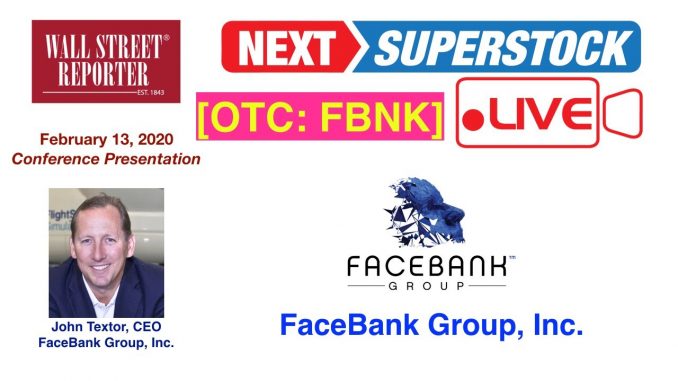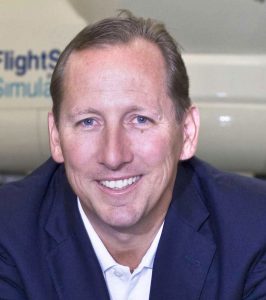 FaceBank Group (OTC: FBNK) Next Super Stock Conference Presentation February 13, 2020
John Textor discusses the company's "moonshot" goal to build and monetize the ultimate IP asset: all the world's faces – including massive revenue opportunities from "digital celebrities".  
FBNK currently holds IP-based revenue share agreements with late celebrities such as Michael Jackson, Elvis Presley, Marilyn Monroe, and Muhammed Ali, living celebrities such as ABBA and Floyd Mayweather, and entertainment properties such as Dreamworks' Kung Fu Panda.
FBNK generated $5.83 million in Q3 2019, and John discusses how FBNK will achieve $200 million revenue run rate in 2020.
John also discusses the FBNK's growth M&A growth opportunities, and plans for NASDAQ up-listing in 2020.
John talks about his background founding successful tech companies, and pioneering work in VFX which helped his previous company win 8 Academy Awards, and pioneer the Tupac concert hologram.
FBNK is now leveraging this know-how to develop new entertainment projects with it's Celebrity IP portfolio to generate revenue in 2020, with projects including: Virtual Floyd "Money" Mayweather, Kung Fu Panda and more. (FBNK potential project pipeline also includes: Digital Mohammed Ali, Elvis Presley, Marilyn Monroe and Michael Jackson.)
FBNK's ultimate goal is to leverage it's celebrity-driven visibility to encourage consumers, of the 'selfie' generation, to protect and enjoy their digital likeness by scanning and uploading to FaceBank – with the goal of 1 billion faces in next few years –  the world's largest conceived intellectual property portfolio.

ABOUT THE EVENT
NEXT SUPER STOCK Live! is Wall Street Reporter's flagship investor conference series featuring presentations by a select group of companies which are at key inflection points, and at the threshold of explosive growth.
CATALYSTS for TRANSFORMATIONAL GROWTH
What makes the NEXT SUPER STOCK Live! conference unique, is all the presenting companies have near-term catalysts in place which can drive transformational growth (and stock appreciation) in the months ahead.
Examples of value creation catalysts include: Major new product launches, mergers & acquisitions, new resource discoveries, FDA approvals, and other value creation events – which transform companies and create SUPER STOCKS.
Just as importantly as their exciting business fundamentals – each presenting company also benefits from high profile marketing to Wall Street Reporter's global institutional investor audience over the coming months – resulting in increased market awareness for their stocks. Watching this livestream event, gives investors an opportunity to get in on the ground floor of what could be the "Next Super Stock" – before they are discovered by Wall Street.
UNIQUE EVENT FORMAT
NEXT SUPER STOCK Live! is a 1-hour online-only livestream event, featuring presentations from CEO's of just three selected companies. The fast-paced 1-hour event format, features 15 minute CEO presentations followed by 5-minute Q&A.  (The event takes place from 12PM-1PM EST, allowing for investment professionals to watch during their lunch break in the trading day.) Event attendees gain maximum value, in minimum of time.
TRACK RECORD of SUCCESS
Over the past 20 years, Wall Street Reporter's investor conferences have earned a unique reputation for showcasing high-potential stocks – many of which go on to deliver triple-digit gains, and become Super Stocks.
ATTENDEES
Event attendees include, leading fund managers, analysts, investment bankers, family offices, as well as sophisticated individual investors. If you're a finance professional in the small-cap space, chances are your peers will be attending this live online event – shouldn't you join them?