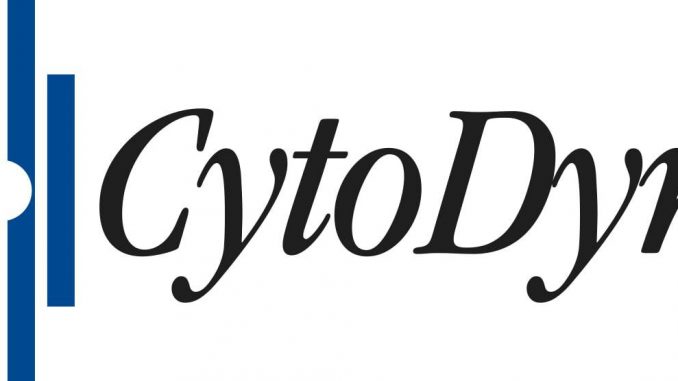 A leading academic medical center has administered the test medication, leronlimab, in two of their sickest COVID-19 patients. Neither patient has had any serious adverse reactions to leronlimab since it was administered. We are hopeful leronlimab will provide help to severely ill COVID-19 patients.
 VANCOUVER, Washington, March 19, 2020 — CytoDyn Inc. (otc.qb:CYDY), ("CytoDyn" or the "Company"), a late-stage biotechnology company developing leronlimab (PRO 140), a CCR5 antagonist with the potential for multiple therapeutic indications, announced today that two coronavirus patients were treated with the Company's investigational new drug, leronlimab. The treatment was administered at a leading medical center in the New York City area under an emergency Investigational New Drug (IND) recently granted by the U.S. Food and Drug Administration (FDA). Leronlimab is intended to serve as a therapy for patients who experience respiratory illness as a result of contracting the Coronavirus Disease 2019 (COVID-19). The treatment of these patients was not under the Company's proposed randomized controlled Phase 2 clinical trial protocol recently submitted to the FDA.
Bruce Patterson M.D., CEO of IncellDX and advisor to CytoDyn, added, "Leronlimab binds to the CCR5 receptor inhibiting the migration of macrophages and the release on inflammatory cytokines including TNF and IL-6. This release of cytokines is what is commonly referred to as the 'cytokine storm' and is believed to cause profound damage in the lungs in some patients. In addition, leronlimab can block Regulatory T cells (Tregs), which can inhibit the innate immune response against pathogens, into areas of inflammation. These combined mechanisms of action may reduce the morbidity and mortality in moderate to severe cases of COVID-19, preventing the acute respiratory distress syndrome associated with this highly destructive and potentially fatal disease."
Nader Pourhassan, Ph.D., president and chief executive officer of CytoDyn said, "We are very pleased that we have a potential treatment option for patients affected by COVID-19 infection. To be very clear, leronlimab does not kill the novel coronavirus. It acts as a CCR5 antagonist by blocking pro-inflammatory cytokines, which prevents cytokine storm and thus could be useful in treatment of COVID-19. Leronlimab is administered as a once-a-week injection. It has a strong safety profile demonstrated in nine clinical trials with over 800 people and is available for urgent treatment. If results are promising, we have leronlimab available for immediate use and the ability to scale production. We are open and willing to work with government agencies and pharmaceutical partnerships to assist in serving those in dire need of a treatment option for this devastating disease. We appreciate the FDA's prompt response and are working in full support of the treating medical team."
About Coronavirus Disease 2019
The Coronavirus Disease 2019 (COVID-19) was identified as the cause of an outbreak of respiratory illness first detected in Wuhan, China. The origin of COVID-19 is uncertain and it is unclear how easily the virus spreads. COVID-19 is thought to be transmitted person to person through respiratory droplets, commonly resulting from coughing, sneezing and close personal contact. Coronaviruses are a large family of viruses, some causing illness in people and others that circulate among animals. For confirmed COVID-19 infections, symptoms have included fever, cough and shortness of breath. It is believed that symptoms of COVID-19 may appear in as few as two days or as long as 14 days after exposure, and that symptoms in patients have ranged from non-existent to severe and fatal. At this time, there are very limited treatment options for COVID-19.
About Leronlimab (PRO 140)
The FDA has granted a "Fast Track" designation to CytoDyn for two potential indications of leronlimab for deadly diseases. The first as a combination therapy with HAART for HIV-infected patients, and the second is for metastatic triple-negative breast cancer. Leronlimab is an investigational humanized IgG4 mAb that blocks CCR5, a cellular receptor that is important in HIV infection, tumor metastases, and other diseases including NASH. Leronlimab has successfully completed nine clinical trials in over 800 people, including meeting its primary endpoints in a pivotal Phase 3 trial (leronlimab in combination with standard antiretroviral therapies in HIV-infected treatment-experienced patients).
In the setting of HIV/AIDS, leronlimab is a viral-entry inhibitor; it masks CCR5, thus protecting healthy T cells from viral infection by blocking the predominant HIV (R5) subtype from entering those cells. Leronlimab has been the subject of nine clinical trials, each of which demonstrated that leronlimab can significantly reduce or control HIV viral load in humans. The leronlimab antibody appears to be a powerful antiviral agent leading to potentially fewer side effects and less frequent dosing requirements compared with daily drug therapies currently in use.