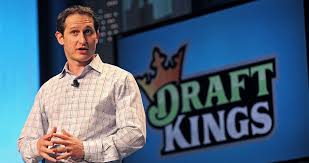 Jason Robins, CEO:
"…We're off to a tremendous start in 2022 as well. Customer acquisition in new states has been accelerating while continuing to pay back on a gross profit basis in the two- to three-year time frame. As of today, 10 states are either already contribution profit positive or on track to achieve that milestone in 2022. Overall, we expect DraftKings to be contribution profit positive for FY '22. And if we were to have frozen new state launches at the end of 2021, we expect that DraftKings would have been able to achieve EBITDA profitability as an enterprise in Q4 of this year.
Second, we continue to see rapid expansion of the OSB and iGaming TAM in the U.S. This is being driven by both new jurisdictions legalizing OSB and iGaming as well as continued healthy growth in existing states. Overall, in 2021, seven states enacted legislation for mobile sports betting, and we launched in five states last year with the other two states subsequently launching in 2022. In iGaming, one state enacted legislation in which we subsequently launched. We also saw two new states open up for Daily Fantasy Sports.
Third, additional product features and functionality for our mobile sports betting and iGaming apps are driving increased customer retention and monetization as well as improved margins. Many of these benefits are now possible as a result of the migration to our in-house sports betting platform, which gives us the ability to diversify our bet types, optimize our in-game betting features and expand the breadth and depth of our content offering.
We also introduced our new Dynasty Rewards loyalty program and continue to expand our social functionality.
And finally, adjacent verticals further increase our TAM with the added benefits of more efficient customer acquisition, higher customer LTV. Our new growth initiatives such as DraftKings Marketplace and media are seeing promising early results, and we're optimistic about the potential for future growth.
DraftKings' 47% year-over-year revenue growth to $473 million in Q4 exceeded our guidance by 8%. The strong fourth quarter brought our full year revenue to nearly $1.3 billion, representing 101% year-over-year growth. Adjusted EBITDA in the fourth quarter also outperformed our expectations at minus $128 million. Fourth quarter Monthly Unique Payers increased to about $2 million, up 32% versus Q4 2020. Average revenue per Monthly Unique Payer increased 19% year-over-year to $77.
I'm very pleased with the market share we achieved in Q4, which reflects the success of our technology migration and the strength of our overall business and brand. Our handle share for mobile sports betting across all active states was 32% in Q4. For iGaming, our gross revenue share was 20% in Q4, including Connecticut; and our market share in New Jersey set a record in each of October, November and December. We look forward to providing more color on a number of topics at our upcoming Investor Day, including our TAM, market share, product innovation, unit economics at both the player and state level, enterprise EBITDA and new organic growth vectors.
Our key performance metrics, including user acquisition, retention and engagement continued to trend well in the fourth quarter and led to strong results across products. The fourth quarter was a record quarter for mobile sports betting handle on an absolute basis as we were live in more states compared to the fourth quarter of 2020 as well as on a same-state basis. In states where we were live for the entirety of Q4 2021 and Q4 2020, we saw a significant increase in engagement, with handle up to 65% due to paid actives growing by 37% and handle per paid active growing by 20%.
Compared to the fourth quarter of 2020, iGaming gross revenue grew 153% year-over-year, including all state, and 61% year-over-year on a same-state basis. Looking at New Jersey, our most mature state where we launched mobile sports betting and iGaming in 2018, our MUPs continued to grow at a healthy rate. In the fourth quarter of 2021, Combined OSB and iGaming MUPs grew 18% year-over-year. MUPs in New Jersey were 78% higher relative to the fourth quarter of 2019.
We had a very strong launch for mobile sports betting and iGaming in Connecticut, a state with only three mobile sports betting operators and only two iGaming operators. For mobile sports betting in Connecticut, our handle market share was 47%. Our gross gaming revenue share was 51% and our net gaming revenue share was 57% in the fourth quarter. For iGaming in Connecticut, our gross revenue share was 58%.
Our business momentum has continued into Q1. On January 8, we launched mobile sports betting in New York. It took DraftKings less than 24 hours to acquire 100,000 first-time paid betters in New York compared to 17 days for Arizona, 170 days for New Jersey, 312 days for Pennsylvania and 344 days for Indiana. In our first 30 days, we acquired over 300,000 users in New York, which was 2.3x the average of our other states in their first 30 days on a population-adjusted basis.
There is no question that customers are joining our platform faster than they did in states that we launched in previous years. As a result, our CACs are fantastic, but overall spending for the first few months is higher than it was for our more mature states, such as New Jersey.
When the New York market launched, there was some aggressive promotional behavior by many operators, but DraftKings is committed to maintaining its disciplined approach to customer acquisition and is targeting a two- to three-year path to profitability for the state.
We believe that product will be the key differentiator between operators over time. For example, our technology provides a seamless customer experience through a single integrated sign-in in wallet across product offerings and jurisdictions. We are already seeing this play out in the Northeast, where customers who travel between New York, Connecticut, New Hampshire, New Jersey and Pennsylvania are able to play on the DraftKings app without having to open a new account.
On January 12, we announced that DraftKings will become the official Sportsbook provider of the Oregon lottery. Pursuant to our exclusive agreement with the Oregon Lottery, DraftKings Sportsbook replaced the scoreboard app on January 18. The DraftKings Sportsbook app offers additional betting markets and an overall superior customer experience. We look forward to serving all sports betters in Oregon.
On January 28, we launched mobile sports betting for eligible customers in Louisiana's permitted parishes. With several professional franchises in addition to Division 1 collegiate athletic, there are ample hometown fan bases and opportunities in Louisiana to engage.
And last Sunday, an exciting NFL playoff ended with another game that went down to the wire. It was also a great end to the season for DraftKings as on Super Bowl Sunday, our total actives across all products was nearly 1.7 million. In fact, this year's Super Bowl was our highest-ever day for actives and handle both in total and on a same-state basis.
Looking ahead, we are raising our revenue guidance to incorporate the impact of New York and Louisiana as well as strong underlying performance in the states we were already live in last quarter. Jason Park will provide more detail.
Turning to legalization trends. we have continued to see momentum. Following our launches in New York and Louisiana in January, DraftKings is live with online sports betting in 17 states that collectively represent approximately 36% of the U.S. population. Additionally, DraftKings is live with iGaming in 5 states, representing approximately 11% of the U.S. population. After the governor of Ohio signed into law a bill authorizing mobile and retail sports wagering, there are now 3 U.S. jurisdictions that have legalized where we are preparing to launch upon licensure and approval from regulators, Maryland, Puerto Rico and Ohio. These jurisdictions represent approximately 7% of the U.S. population and will bring the percentage of the population where DraftKings expects to offer legalized mobile sports betting to approximately 43%.
So far in 2022, 10 state legislatures have introduced legislation to legalize mobile sports betting, and 8 state legislatures have introduced legislation either to expand their existing sports betting frameworks, create referendums regarding sports betting legislation or increase in-person sports betting opportunities.
In addition, 3 states have introduced iGaming legislation and 3 other states have introduced online poker legislation. We also made 2 announcements that position us from mobile and retail sports betting in Kansas and the state of Washington pending changes in state law, licensure and receiving necessary approval from state regulators.
I also want to comment on California and Florida. In California, we continue to work with a number of leading online sports betting operators in support of a campaign to bring regulated safe and responsible online sports betting to the state. Legal online sports betting is projected to bring hundreds of millions in tax revenue annually to the state to address 2 of the state's most pressing issues, homelessness and mental health. We are confident that the California Solutions to Homelessness and Mental Health Support Act will create a competitive market with the best products and experience for consumers.
In Florida, we were fortunately not able to get the required number of signatures in time for inclusion on the ballot this November. This is due to a variety of factors, including COVID as well as the compressed time frame given when signature gathering started. We are very encouraged, however, by the over 1 million individuals who signed petitions in less than 8 months, which shows that Floridians do want the opportunity to vote on a competitive mobile sports betting market in the state.
We are exploring all options to ensure that Floridians get that opportunity as soon as possible. And if we were to refile, we are very confident that, given the extended time frame, we will be able to qualify for the 2024 ballot.
Ontario has announced that the province will launch the first competitive regulated and licensed online sports setting and iGaming market in Canada on April 4, 2022. We look forward to launching in Ontario and competing in that market, pending licensure and required approvals. For context, Ontario represents about 40% of Canada's population and would be the fifth-largest U.S. state by population.
Moving on to product and technology. We continue to add breadth and depth to our mobile sports betting and iGaming products. As we have mentioned in the past, we believe that the long-term winners in this industry will provide the best product experience to customers.
With the completion of the migration to our in-house bet engine, we are now capturing the acquisition synergies we anticipated in our mobile sports betting cost structure and have turned a variable cost into a fixed cost.
For mobile sports betting, we launched parlay and same-game parlay insurance promotion capabilities in the fourth quarter. For those who are unfamiliar with this feature, parlay insurance allows betters to win something even if they lose legs within their parlay bet. This new capability has had a great response from our users, and it has supported growth in our mix in mobile sports betting handle coming from parlays.
For same-game parlays, we also expanded our sport coverage beyond the NFL, college football and the NBA with the launch of College Basketball and the NHL in November. We invested in our in-play offering and in-play experience by introducing a new front-end user interface for Flash Bet that allows for a more engaging wagering experience. Flash Bet is an immersive live betting experience where users can follow what's going on in the game and get shown our flash markets, which refer to the next occurrence that will happen in the game. Markets supported by this functionality include Next Play Result, Drive Result and Drive Yardage for the NFL and next team to score and type of score for the NBA.
For iGaming, we continue to benefit from cross-selling in the games we have created in-house. In the fourth quarter, 49% of mobile sports betting users in our iGaming states also engaged with our iGaming product. When looking at DraftKings' developed games, 56% of iGaming handle in the fourth quarter came from DraftKings developed teams, which is important both for differentiation and from a gross margin rate perspective. As an example, DraftKings Rocket is now launched in Connecticut and in Michigan in addition to New Jersey. This game continues to be very popular with our users. In the first 14 days following launch, 40% of Michigan's iGaming paid actives and 41% of Connecticut's iGaming paid actives played Rocket. This compares to 33% of New Jersey iGaming paid actives in the first 14 days.
We look forward to updating you on the DraftKings developed means we will launch in 2022 on future earnings calls.
DraftKings Social is an industry-first innovation that creates an integrated social community allowing fans to interact with each other within a peer-to-peer environment. This functionality, which we began rolling out in Q2 of 2021, is now live across our Sports Betting and Daily Fantasy sports products, and it is driving customer engagement through features such as bet-sharing.
The average number of bets for users who have placed at least 1 bet through our social platform grew 67% from Q3 to Q4 which significantly outpaced quarter-over-quarter growth for users who have not placed a wager through our social platform.
We will continue to add to our social functionality in 2022. For example, we're launching several additional social integration points across our Sportsbook and DFS products in the first part of the year. We're also building additional features, such as betting groups, which allow friends to bet in private groups where everyone gets to see each other's bets and chat, as well as chat features for both DFS and our live casino games.
We will also be launching a feature that allows any user to go live with video and audio, which broadcast bets they make in real time to viewers.
In November, we launched Dynasty Rewards, our all-new cross-product loyalty program that rewards players to their play across all DraftKings consumer products in all jurisdictions. Dynasty Rewards is the most comprehensive DraftKings loyalty program ever, featuring a wide spectrum of rewards curated for every kind of customer, from free credits to exclusive experiences. With the ability to earn on everything DraftKings and to choose how you're rewarded, we believe it will take the customers' experience to the next level, help drive retention and cement DraftKings as a top gaming and entertainment brand.
We have tapped into our deep roster of lead deals and strategic partnerships to craft these once-in-a-lifetime exclusive experiences. At the launch of Dynasty Rewards, we partner with the NFL for an exclusive DraftKings Super Bowl getaway and the NHL for the Winter Classic, with many more experiences to come.
Engagement with the loyalty program has been phenomenal. Approximately 95% of customers in our highest 2 tiers have actively engaged with the Dynasty Rewards program since launch. And this is just the beginning. Over the months ahead, we will continue to enhance Dynasty Rewards with more ways to earn and redeem, deeper integrations and utility within our core products, new perks with partners and retail locations and more.
Draftkings Marketplace had another dynamic quarter as interest and demand continues to be strong. We sit at the intersection of Web3 and sports culture as the only company to offer digital collectibles, sports betting, daily fantasy and iGaming products. As the NFT space evolves, the broader DraftKings ecosystem will create more opportunities for our marketplace around utility gamification and custom offers that only we can provide.
The fourth quarter featured drops from the Usain Bolt, Rob Gronkowski, Wayne Gretzky, Simone Biles, Tom Brady and Tony Hawk as well as SLAM Logo passes in the soft dome franchise. We also revealed plans with the NFL Players Association and One Team Partners, the group licensing partner of the NFLPA to launch gamified NFT collections that we anticipate debuting on DraftKings Marketplace during the 2022, 2023 NFL season. The agreement grants DraftKings licensing rights for active NFL players, including the authentic use of name, image and likeness. Initial anticipated features of DraftKings gamified NFL player NFTs include the ability for customers to use these collectibles within games against each other on the platform as well as separate buying and selling functionality.
It is expected that there will be a variety of NFT additions in tiers that incorporate different aspects of utility and digital rarity. DraftKings previously announced a strategic agreement with Polygon to provide a scalable, eco-friendly blockchain solution that enables added throughput, lower transaction fees and expanded capabilities…."