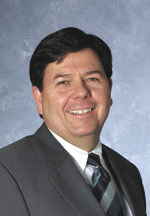 [display_podcast]
Watts Water Technologies, Inc.
NYSE: WTS
Sector: Industrial
Industry: Industrial Equipment & Components
Interview With:
William McCartney
Chief Financial Officer
Dated March 03, 2009
target="_blank">Website
Corporate Info
Watts Water Technologies (formerly Watts Industries),are makers of valves used in plumbing, heating, and water control applications. Watt's products include ball valves, safety relief valves, pressure regulators, float valves, and drainage products. The company sells most of its valves for use in plumbing, heating, water-quality, and water-flow control equipment. Sales are primarily made through commissioned businesses that sell to plumbing and heating wholesalers, do-it-yourself markets, and distributors. Director Tim Horne and his family control the company. The company changed its name in late 2003 to better reflect the company's direction and product lines.
Interview transcript:
WSR: Can you start off with an overview of the company?
William McCartney: We are trading on the New York Exchange as you mentioned. Our revenue for 2008 was approximately $1.4 billion and we are an international company with approximately 45% of our revenue outside the United States. We have a very strong presence in Europe. And we are manufacturing products that address the water market for residential and commercial construction applications. About half of our product go into residential and half in to commercial.
And the other point we would like to make as we provide an overview is about half of our products are tied to new construction and half into the repair market. And the repair market is heavily skewed towards what we consider to be non-discretionary purchases as an example when your plumbing or your heating system breaks down, you really don't have a choice. You have to have those types of repairs made.
So, that helps provide a bit of a buffer to the tough economic conditions that we face right now.
WSR: Can you talk about some of the ways that you guys are positioned to kind of brave the storm in the tough economic market?
William McCartney: I believe that we have been very proactive in preparing for this. Early in 2008, we began a very active cost reduction program and a program to improve our cash power.
In the fall of '08, we had a series of reductions enforced. We have adjusted our payroll levels of all of our employees. We also have announced several plant closures which were beginning that and their project now. And we are looking at several other projects along those lines as well.
So, we are working very actively to reduce our cost base and improve our operating leverage in trying to prepare for improved profitability as the economy improves. We have also, in the fourth quarter of '08. We sold one of our underperforming divisions in China. And that resulted in us being profitable in our China segment during the fourth quarter. So, we are very pleased about that.
Additionally, though, early in or say late 2006 and during 2007, early '08 as well, we really spent a lot of time in terms of training our management and upgrading the management where necessary to implement lean manufacturing processes, techniques in the company.
As a result of that, during 2008, we had one of the best cash years in the history of the company, where we had $121 million of free cash flow, which, that $121 million equates to about 190% of our net income.
So that's really world class performance. We are also going to continue on this road of lean manufacturing and we are looking forward to a good cash year in 2009 as well. When looking at our balance sheet at the end of '08, our net debt-to-cap was 22%.
We don't have any liquidity events in the near future. So, when we look at our sort of liquidity, cash position and cash flow, we think we are in a pretty strong position to not only weather the economy but to continue to make strategic investments, you know, it was a big portion of our growth its come from our acquisition program in which. Despite the tough economy, we are in a good position to continue that during the upcoming 12 months.
WSR: I know you guys also had a recent acquisition of Blucher Metals. Can you talk a little bit about that?
William McCartney: Yes, we did. Blucher Metals is based in Denmark and we acquired Blucher in the summer of 2008. And Blucher was the largest acquisition we have done in the history of our company. And Blucher is a leader in the manufacturing, distribution in Europe of stainless steel drainage systems. They have revenue of approximately $90 million. We are very happy to acquire Blucher. It comes with a very strong management team. It's the number one brand in drains in Europe. And it gives us a new platform in Europe. One of things we have in Europe is we have a very strong heating platform and a very strong plumbing platform.
And we were looking for a third platform to provide some additional growth opportunities for us and Blucher provides us that. So, we look at Blucher after being as part of watch for six months. We are pleased with the progress that we have seen and the performance that Blucher has provided.
And we have identified several growth areas for Blucher over the next coming years. Couple of things, just to mention a couple of specifics, Blucher has a very strong market share in Northern Europe, not so much in Southern Europe. So, we are incorporating some of the sales activities into our distribution channels in Southern Europe.
We have opened an office in Dubai in combination with our existing Watts plumbing and heating businesses. So, they will be providing us some growth in the Middle East. We are looking at extending Blucher's distribution into the United States. They have a very minor presence and so there will be some opportunities as we incorporate them into our existing drainage business in the States.
This is our first drain acquisition in Europe, but it is opening some opportunities, potential opportunities for other acquisitions in the drainage field in Europe. So, very pleased with the performance so far in Blucher.
WSR: Watts Water trades under New York Stock Exchange symbol WTS, right now trading a little bit north of $19.50. Can you talk about some of the reasons why investors should consider the company right now?
William McCartney: First of all, we think about little bit longer-term versus just the upcoming 6 to 12 months which will be difficult for all industrial companies. But we believe that we are very well positioned to take advantage of trends that are developing and will become even stronger trends as we come out of this economy. Specifically, I am talking about the conservation of both energy and water.
Currently, in Europe, we have the number one position around using alternative fuels to heat water. So, we are providing the electronic controls, the manifolds, the safety and control packages to safely use solar and geothermal and pellet boilers to heat water. So these are very energy efficient products.
And we believe that the trends for that are very early in the United States but that will provide a good opportunity for growth again as the economy improves.
Water conservation continues to be an important area of growth throughout the world and we have a significant product portfolio that allows people to conserve water without and still maintain a very comfortable use of water while they are conserving it.
You know we have grown significantly over the years through our acquisition program we have — we participate in market that's very fragmented and that we have the balance sheet and the cash flows to continue to that. So acquisitions will continue to be important part of our growth strategy.
But additionally, we have the number one brand in our space in North America and we are a leading brand in Europe. So the strength of the brand will get up through a difficult economy. But also allows us to tack on acquisitions under their brand name and that provides a good solid growth avenue for us.
We have the broadest product offering and the broadest distribution capability of anyone in the industry. Approximately half of the revenue of Watts' is replacements. So that gives us a good recurring revenue stream.
We have a long history of providing growth and we think the model that has provided that is still in place. We have about over half or — two-thirds of our revenue comes from products that are required by plumbing code to be installed, so we are at — we are strong advocates of code development and code education and code enforcement. So, as the world becomes more complex particularly in the emerging markets codes continue to develop and provide opportunities for us as well.
So, we think we are well positioned to get through this difficult economy and then to react and respond to the trend that you can develop immediately thereafter.
WSR: Can you talk a little bit more about how you are positioned to take advantage of some of these trends in international markets such as China?
William McCartney: If you look at our business in China now we have a very solid position in the infrastructure market where we are supplying very large diameter vales into the water pipeline market as well as the hydroelectric market.
Now when you look at the recent commitment by the Chinese Government they are going to inject almost $560 billion into that infrastructure market. So we will have some benefit from that. Additionally, the forecast over the next ten years is for more than 200 million people in China to leave the farms and to be moving into urban settings.
So the urban expansion in China is going to continue at a rapid pace and all those folks going to need additional pipelines to support their water needs. Additionally, when you look at the commercial construction markets in China. We have a very small presence there and the codes are developing and becoming more important in China and if that happens we will be able to sell more of the types of product that we sell both in Europe and in the United States into those commercial construction markets.
So, we think that China will become a bigger part of our company over the next 5 to 10 years both from just introducing products into that market and if that market itself expands.