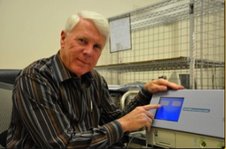 This interview has expired.
Click here to find stocks, with exciting stories, and management committed to maximizing shareholder value.
Special deals for our readers
Are you qualified for the Visa Black Card?
The World's Most Prestigious and Versatile Credit Card. Apply Now!

Be a more profitable investor:
What's Jim Cramer trading in his personal portfolio? Click here

Get an Equifax 3-in-1 Credit Report Now!

Why are you still paying too much with Schwab, and and E-trade?? Step up to the #1 discount broker: TradeKing.
Find out why TradeKing.com was ranked #1 Discount Broker by SmartMoney Magazine two years running! (August 2006 & 2007).
Invest Smarter! Get 4 Bonus Weeks of Investor's Business Daily Digital Edition!

LifeLock is the only Identity Theft Prevention Solution backed by a one-million dollar guarantee!Click here to get a 10% discount.

Get FICO Score Watch Now!


Free Quicken Online automatically categorizes your expenses.

Click here to get access to powerful investing tools only available at Investor's Business Daily.

Get a free look at Jim Cramer's Action Alerts PLUS portfolio. Click here

SpectraScience, Inc.
(OTC BB: SCIE)
Jim Hitchin, CEO
SpectraScience is a San Diego based medical device company that designs, develops, manufactures and markets spectrophotometry systems capable of determining whether tissue is normal, pre-cancerous or cancerous without physically removing tissue from the body. The WavSTAT Optical Biopsy System uses light to optically scan tissue and provides the physician with an immediate analysis. With FDA approval for sale in the U.S. and the CE Mark for the European Union, the WavSTAT System is the first commercially available product that incorporates this innovative technology for clinical use. In addition, the Company's LUMA(R) Cervical Imaging technology has received FDA approval as an optical non-invasive system that is proven to more effectively detect cervical cancer precursors than conventional methods available today.