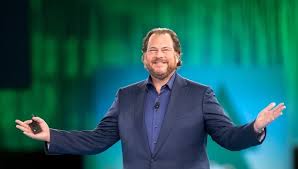 Salesforce.com, Inc. (NYSE:CRM) Q4 2022 Earnings Highlights
Marc Benioff, CEO:
"…Every company that I speak to and these CEOs that I'm speaking to, they're all going through major digital transformations. And those customers, they all — are all beginning and ending with the customer. And our job remains to help these companies grow and achieve this transformation.
And that's why we've had such an incredible year, and I'm confident that, that will continue. And you can see that in kind of these incredible numbers, but also our very deep commitment to this kind of very disciplined, very profitable and very cash flow positive, as you can see, the $6 billion number and the $7-plus billion number scheduled for next year and going up in the years to come.
For the fourth quarter, revenue rose to more than $7.3 billion, up 26% year-over-year. That's pretty awesome for a company of our size that we did a 26% growth quarter at $7.3 billion. I don't think there were too many $7.3 billion quarters at 26% growth in the world this year. And for the full fiscal '22, revenue was $26.5 billion, again, up 25% year-over-year. Again, a $26 billion company growing 30% to 25%. And of course, that's why we're coming in on this $32.1 billion year. So we're continuing to be the fastest-growing top 5 enterprise software company in history.
Salesforce is on track to becoming the world's #1 enterprise cloud, software applications company. This operating margin for the quarter was 15%; and for the full year, 18.7%. And we've just continued to deliver this disciplined approach to margin expansion. And you can see that in the forecast for the quarter now at over 20% operating margin with the $32.1 billion year.
So with our unique business model, we continue to grow revenue at scale, drive operating margin expansion, leading to strong cash generation, I mean you can see that in all 3 aspects of this quarter. And we closed fiscal year '22 with really incredible cash flow, reaching a milestone of $6 billion in the year, and that's really up 25% year-over-year. That's really amazing, and I would say, far exceeded our goals.
I'll tell you that based on our strong fiscal year '22 results, we're excited to raise our fiscal year '23 revenue guidance to $32.1 billion, something I've been excited to talk about at the high end of the range, representing 21% growth year-over-year. Amy, I hope that, that is just the beginning of the [revs-in] for the year. And we are committed to delivering a fiscal year '23 operating margin of 20%. And customer success is just continuing to just drive this financial success. And our product innovation is providing customers with the resilience they need to navigate these, I would say, grim and uncertain times. And that's why Salesforce has been ranked by IDC as the number one CRM for 8 years in a row. We have a tremendous focus here, being the number one CRM…."