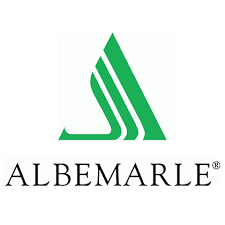 Kent Masters, CEO
"…2021 was a transformative year for Albemarle. Our strategic execution and ability to effectively manage the challenges of the global pandemic enabled us to capitalize on the strength of the lithium and bromine markets and generate results that exceeded expectations. For the year, excluding our Fine Chemistry Services business, which was sold in June of 2021, we increased net sales by 11% to $3.3 billion, which was in line with our previous guidance. Adjusted EBITDA grew 13% in 2021 to $871 million, surpassing the upper end of our guidance.
Looking ahead, our outlook for 2022 has improved based primarily on favorable market conditions for lithium and bromine. We expect adjusted EBITDA to grow between 35% and 55% versus 2021, excluding Fine Chemistry Services. To continue driving this growth, we are focused on quickly bringing capacity online with accelerated investments. La Negra III and IV is currently in commercial qualification and we expect to start realizing first sales from this facility in the second quarter.
In November, we achieved mechanical completion of the first train at Kemerton. The construction team is now dedicated to the second train, and we will be able to leverage our experience from Train 1 to improve efficiencies and timeliness of this project. And we recently signed a nonbinding letter agreement to explore the expansion of our MARBL joint venture with increased optionality and reduced risk.
Now looking at Slide 5. We introduced this slide early last year to lay out our 2021 objectives designed to support the four pillars of our strategy, to grow profitably, to maximize productivity, to invest with discipline and to advance sustainability. I would like to thank our teams for their extraordinary efforts. Virtually all the goals we set last year were met or exceeded despite challenges related to severe weather, supply chain issues and the ongoing effects of the pandemic. The focus of our people around the world is what drove our strong year and underscores our ability to deliver on our commitments. These accomplishments have also set the stage for us to take advantage of the growth opportunities ahead.
Just as important as driving growth is an ongoing dedication to strong ESG values. I'm very proud of what you see on Slide 6. Since I became CEO in 2020, one of my main priorities has been continued improvement in sustainability. I'm pleased to see that these efforts are increasingly being recognized externally, but it certainly isn't a new initiative for Albemarle. Sustainability is not just doing the right thing but also doing it the right way.
For example, the lithium market is expected to see significant demand growth in the coming years. As a leader in lithium production, we expect to be an example and help define the standards of sustainability in this market as it goes through this fundamental shift.
Now turning to Slide 7 and more on the lithium market outlook. Based on our current market data, EV trends and regular interactions with our customers, we are revising our lithium demand outlook upwards once again. We now expect 2025 lithium demand of approximately 1.5 million tons, up more than 30% from our previous estimates. Beyond 2025, we anticipate continued growth with lithium demand of more than three million tons by 2030.
EV sales growth is accelerating as consumers become more energy-conscious, governments incentivize clean energy, technology improves and EVs approach pricing parity with internal combustion vehicles. In 2021, global EV production nearly doubled to over six million vehicles from three million in 2020. By the end of the decade, EVs are expected to account for close to 40% of automotive sales.
When you look at last year's growth rate of nearly 50% and the auto industry's ambitions for a rapid transition to EVs, it's easy to see why demand expectations are so bullish. However, meeting this demand will be a challenge.
Turning to our Wave II projects on Slide 8. La Negra III and IV, which will add conversion capacity for our Chilean brine resource in the Salar de Atacama is currently in the customer qualification process. We anticipate incremental volumes and revenue contribution from this project in the second quarter of this year.
While there are significant changes taking place to the political landscape in Chile, we do not anticipate any material impacts to our business. We support the Chilean people's right of self-determination and applaud the peaceful leadership transition in that country. Our team has already begun building relationships with the incoming administration.
As I mentioned earlier, Kemerton I reached mechanical completion late last year and is currently in the commissioning phase. This puts us on track to begin first sales in the second half of this year. Kemerton II remains on track to reach mechanical completion by the end of this year. The OEMs and battery manufacturers have been investing heavily in growth, including commitments in North America and Europe, and the lithium industry must do the same.
Turning to Slide 9. We provide an overview of how Albemarle is investing to support downstream growth. Since our Investor Day, we have accelerated and further defined our Wave III projects, including the announcement of three strategic investments in China. This wave of investments will provide Albemarle with approximately 200,000 tons of additional capacity. That's up from 150,000 tons of capacity originally planned for Wave III. We've also continued to progress our growth options for Wave IV. Based on discussions with our customers, we are analyzing options to restart our Kings Mountain lithium mine and the potential to build conversion assets in North America and Europe…"